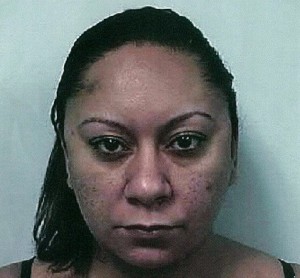 Kortnie Oliver
masslive.com
Kortnie Jarrell Oliver pleaded guilty to one count of burning a motor vehicle, one count of burning personal property, two counts of attempt to burn a motor vehicle, and a count each of assault and battery and intimidation of a witness.
The blaze at Orchard Auto Sales, of 1307 Worcester St., Indian Orchard, which destroyed a Jeep, was reported about 5:24 a.m. on Oct. 30, 2013.
Assistant District Attorney James M. Forsyth said it appeared the motive was to collect insurance on a Mercedes belonging to the mother of Patrick Oliver - Kortnie Oliver's husband - which was in the shop for repairs.
But the vehicle destroyed by fire was a Jeep Grand Cherokee, not the Mercedes belonging to his mother Patrick Oliver had been driving. The arsonist tried to burn the Oliver car and several other vehicles, but only the Jeep caught on fire, Forsyth said.
Although defense lawyer Daniel D. Kelly asked for a sentence of probation only, Hampden Superior Court Judge Richard J. Carey sentenced Oliver to six months in jail with 30 days to be served and the rest suspended with one year probation.
Forsyth had asked for a sentence of six months at the Western Massachusetts Regional Women's Correctional Center in Chicopee followed by a year's probation.
Kelly said Oliver had led an "overall law abiding life." He said restitution was not possible because she is unemployed and that is not expected to change anytime soon.
The owners of the auto sales business, which rented space at the 1307 Worcester St. building, were cooperating with police by providing the vehicles to police during the investigation, Forsyth said.
Kortnie Oliver struck the female owner because she (Oliver) could not get her and her husband's car back because police had held it, Forsyth said.
He said Kortnie Oliver was the passenger in the car used the day of the arson, but the driver and the arsonist (not the driver) were not identified.
Forsyth said the video at 4:44 a.m. shows a person get out of a car and pour liquid over a Camry and a van. He lights a paper and throws it onto the Camry but nothing catches fire.
The arsonist leaves and gets in a black car, which goes to a gas station about a mile away. Kortnie Oliver gets out and puts $2 worth of gas in a container.
The man is then seen going back into the auto sales lot and pouring gasoline into the Mercedes belonging to Patrick Oliver's mother and onto the nearby Jeep.
The Jeep then becomes fully engulfed and is destroyed, Forsyth said.
We would like to thank masslive.com for reprint permission.