From the Desk of Mike Anderson: The Customer Experience and Overworked Admin Staff
Written by Mike Anderson, Autobody News
Published Feb. 7, 2023
I had the privilege and honor of addressing the hundreds of professionals at the Collision Industry Conference (CIC) in Palm Springs, CA, in January, and I wanted to share some of what I said there.
One of the key messages: the administrative staff at collision repair facilities today are overwhelmed, pulled in so many directions at the same time. They have to do rental car updates, take OEM training and I-CAR classes, they're receiving OpenShop assignments and getting emails and phone calls. If we don't fix this, we're going to lose people.
As my friend Ray Chew of CCC Intelligent Solutions says: We need to figure out how to eliminate human disruption. That means, first, that we have to embrace technology as an industry. We've got to quit beating up software companies when they roll out something and it's not quite perfect. Because you sometimes have to start somewhere. You've got to crawl before you walk, before you run.
We do the financials, the profit and loss statements, for more than 400 collision repairers that combined do more than $1 billion a year in revenue. In 2017, the average body shop was spending about 10% of sales on administrative wages. Ladies and gentlemen, we are seeing some shops today where it's as high as 15.3%. That means at many collision repair facilities, average admin wages have gone up 4 percentage points. Four percent on a million dollars is $40,000. That comes from the bottom line.
Why is that? Let's take a look at estimating or repair planning. We at Collision Advice are fortunate to do factory estimate training for Toyota/Lexus, Nissan/Infiniti and other automakers. We recently wrote an estimate to replace a quarter panel on a 2022 Toyota Camry. We had 783 pages of OEM documentation we had to review just to write that estimate to replace a quarter panel.
That's why shops find themselves having to add more admin staff. At some point we've got to figure out how to reverse that trend. That means we've got to start better using technology.
I also said at CIC that part of the solution is being able to offer the competitive wages and benefits those employees can receive at other companies in other industries, something I've written about in this column in the past.
Offering More Flexibility
But I said this industry also has to do a better job at offering something else many companies in other industries now offer: more flexible work schedules. When I had my body shops in Virginia, all employees got one Friday off each month. I'm now starting to see more shops offering four-day workweeks. However you structure it, you've got to start moving toward giving employees more flexible schedules.
That's part of building the best culture in your market, because the companies with the best cultures win. The goal isn't just to have people love their job. You want people to love the organization. If your company was a competitive sports team, your company's jersey has to be the one people want to wear.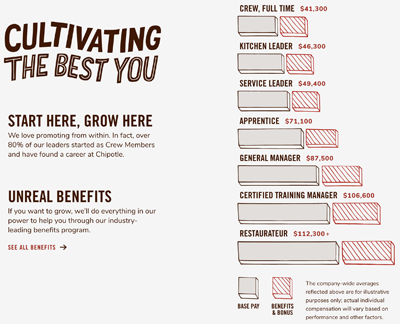 Today, that requires showing employees a career path. Take a look at the website of the Chipotle fast food chain. Right on their website, they give a potential employee an idea of what they can earn starting out as a full-time crew member, and how much that could increase if they become a kitchen or service manager, a general manager or a certified training manager.
Ladies and gentlemen, that's a career path. As I told the attendees at CIC last month---and in The Collision Vision, Autobody News' new podcast---as an industry, we must develop a standard career path.
Taking a New Look at CSI
Lastly, among the messages I delivered at CIC was something else I've written about in this column: My view that for all the positive benefits customer satisfaction indexing (CSI) has brought to our industry, I think customers have survey fatigue.
I also think we have been so focused on three CSI questions---were they kept informed, was the delivery on time, and was the vehicle fixed right the first time---that we've stifled the creativity of our staff to create an amazing customer service experience. There's customer service, and then there's the customer experience. The focus on those CSI questions has handcuffed the creativity of our staff to create an exceptional customer service experience.
I told CIC I had two simple words about it: Stop it. We need to stop doing things the way we've done it. And we need to open up our mind to creating a more modern service experience for our customers. It can start with something simple. When you use Uber, for example, you get a digital receipt. What are we still giving our customers? A paper receipt. Why aren't we asking: would you like a paper receipt, a digital receipt or both?
Like I did in this column a while back, and in The Collision Vision, I posed this question to those at CIC: are CSI surveys the way we continue, or do we move to focusing on online reviews?
I don't know the answer to that. It may be both. But I said CIC may be the forum where we as an industry can discuss that and hash it out. Hope to see you at the next CIC, April 12-13 in Richmond, VA.